Back to top ∧
What is RedPort Tracking?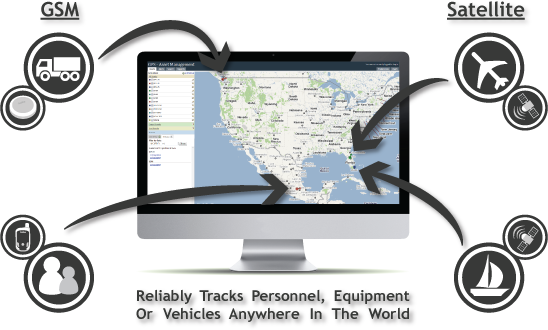 RedPort Tracking is a web based integrated satellite and GSM tracking solution, compatible with modern web browsers and works on a multilingual platform that brings together all the positions of every manufactured product under one location and displays and manages them in a single unified interface.
With RedPort Tracking, asset locations and movements - including position, speed, altitude and heading - are tracked in real-time worldwide via GPS updates.
It's never been so easy to track your personnel, vehicle or assets, where ever they may are!
Back to top ∧
How It Works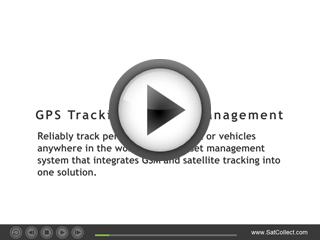 By using GPS satellites with the latest hardware and technology, you can now track any asset on earth, whether it's people, vehicles, containers, or any moving object!
Our technology allows you to merge together all types of tracking equipment into one easy to use platform.
The tracking equipment determines its location by triangulating a position using GPS (Global Positioning System) and then transmits this information via GSM, Satellite, or VHF to a central server for processing.
Any operator can view and control any number of real time assets simultaneously.
Back to top ∧
Benefits
Increased personnel and fleet safety.
Overlay of geo-fences for increased monitoring in certain areas.
Different speed limits for different areas.
Monitoring of seatbelts, which in most countries is a legal requirement.
Forwarding of events and communication to email or SMS.
Direct communication with personnel via RedPort Tracking and the Message Terminal.
Integrated panic button for immediate assistance in dangerous situations.
It is a flexible asset management solution for use on vehicles, vessels and aircrafts.
Direct access to critical safety information, anytime, anywhere.
Historic data available for investigational purposes of accidents and recons.
Back to top ∧
Advanced Reporting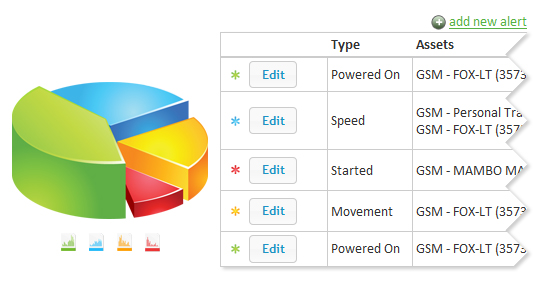 RedPort Tracking collates a wealth of data into user-friendly and easy to understand reports and graphs, which can be configured individually or into groups of assets according to specific needs and reported remotely under a unified web interface.
Reports can be scheduled to run at predefined times and sent to an unlimited list of e-mail addresses and cell phones, via an SMS message. Reports can also be requested online in real-time and downloaded at your own convenience.
Detailed reports can be sorted and displayed according to various selected criteria or as a graph highlighting areas of importance.
Back to top ∧
Features
Utilize almost any available tracking hardware
Track by position, speed, altitude and heading
Multilingual & Multi-Platform
Remote Configuration
Geo-Fencing
Alerts based on speed, IO changes, start, stop, and power on and off
Over the air firmware updates
White label packages for resellers and distributors
Seamless ongoing software upgrades to include the latest technology as soon as it is available
Back to top ∧
Featured Products
RedPort Tracking supports a wide variety of hardware shown below in a side-by-side comparison chart. We can also help you pick the right hardware by contacting us with your project requirements.
TAM-212
IP66

TAM-242
IP66

Felcom 250

Felcom 500

JUE-250

JUE-500

Sailor 150

Sailor 250

Sailor 500

Satlink 150

Satlink 250

Skipper 150

GST-202
IP66

QPro
IP67

DMR-800D
IP67

DMR-800L
IP67

IDP-680

IDP-690

MT3000
SAE J1455

MT3400
SAE J1455

MT3550
SAE J1455

SureLinx 8100
Transceiver: IP40/NEMA1
Antenna: IP67/NEMA-4X

BGan Explorer 325
Transceiver:IP31
Antenna:IP56

BGan Explorer 727
Transceiver: IP31
Antenna: IP56

BlueTraker 2200
IP 68 to EN 50529 and IP 69K

GSatMicro

MCG-101

Voyager

Extreme 9575

9602-LP
MIL-STD-810F

SHOUT Nano

QPro
IP67

Field Tracker 2000
IP68

Field Tracker 2100
IP68

BlueTraker 2000
IP 68 to EN 50529 and IP 69K

Fox-IN-AU

Fox-LT

Fox-LT-IP

Mambo2

MFD-1

Garmin Fleet Management
IP54

GST-200

GST-200GL
IPX5

TM3000
IP54

QPro
IP67

FM1100

FM3200

FM4200

FM5300

Marine

Personnel

Aircraft

Vehicles
Back to top ∧
Frequently Asked Questions




Why use RedPort Tracking?
RedPort Tracking is the best tracking solution to merge together all of your assets. Whether it's a fleet of trucks using GSM, aircraft using satellite, and people using UHF, they can all be combined into one solution. Messaging can be relayed through multiple technologies just like they were on the same network.
How much does RedPort Tracking Cost?
RedPort Tracking is a modular system where you start with a basic tracking service and add additional features. Therefore you only pay for what you need and not more. Just contact us here for a quote on your project.
What makes RedPort Tracking different?
RedPort Tracking is a different product than most tracking solutions because our software utilizes many different manufacturers products. We have brought together the best products available in the market and pre-programmed them for easy deployment. If you already have tracking hardware, we can support it as well!
How do I get started?
Simply contact one of our sales reps here.
What about installation and updates?
Updates for our RedPort Tracking software are done in real-time and online so you get the latest and greatest set of features. Updates for firmware on the tracking terminals is performed over the air if the hardware supports it. Otherwise and simple installer is loaded onto a computer and the trackers are updated on site. Installation is performed by professional, trained staff so you get the best product.
Can I conceal the tracking from my drivers?
Yes! The trackers can be installed in very discreet locations, and even run off of batteries for an extended period of time if you cannot connect to a power source.